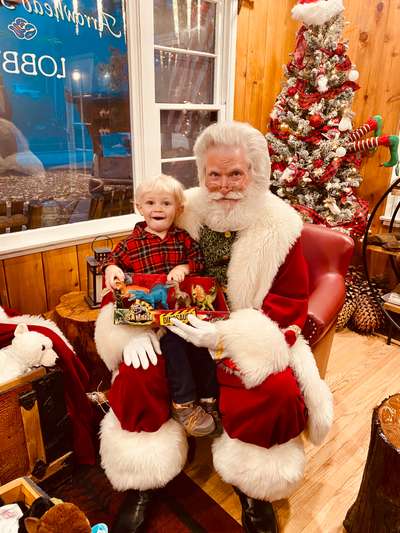 Prices & Times
Santa is available for Cabin Visits from November 28th to January 7th from the hours of 8:00 am to 7:40 pm*
20 Minutes (suggested 1-3 kids) $65
40 Minutes (suggested 4 or more kids) $130
60 Minutes (suggested for large parties) $195
FALL OFFS: Santa will deliver presents to your cabin for no additional charge. Just bring the present wrapped and ready to go to the lobby and Santa will grab them before headed to your cabin.
*Not available Christmas Eve, Christmas Day, New Years Eve & New Years Day.
1. PARKING
Make sure Santa has a nice place to park his sleigh. With other cars parked along the street, you don't want him searching the block for an empty space. Have an obvious (marked) place for him to park so he'll arrive refreshed and on-time.
2. FALL OFF"S (PRESENTS)
If you want Santa to deliver "FallOffs" (presents that "fell off" the sleigh), have one for each child (and adult?) wrapped and boldly marked with a felt- pen right on the wrapping (tags often fall off in his sack). Leave them at the Front Desk and Santa will transfer them to his bag before his arrival. (If you have more gifts, Santa will usually ask a couple of the 'big kids' (adults) to be honorary Elves and instruct them to bring in the extra gifts.)
If your visit is after hours please leave the wrapped gifts in a black trash bag (provided by frond desk) in the driveway by your car.
3. ENTRANCE
Santa's entrance is important to building those memories. It happens at the door, so everyone should be inside and kept away from windows where the surprise might be spoiled. There will be the sound of Jingle Bells and then a loud knock. It's fun to have your Little Ones answer the door!
4. CHAIR
Have a sturdy, armless chair for Santa to sit in. He should be able to sit comfortably with the chair supporting him plus a child on each knee. Place the chair near your Christmas tree or in a Christmas setting, maybe in front of a decorated wall or any festive type of backdrop. Your photos will have more impact. Place a wreath, a few Christmas cards or your children's drawings on the wall to make a wonderful difference. Leave a foot or two between the chair and the tree or wall. This will allow room for others to gather around and behind Santa's chair for group photos. Fireplaces do look nice but remember putting Santa too close to a real fire is not good for his comfort or health.
5. GATHERING
Have everyone assembled for Santa's arrival. Adults, too! He might lose valuable time with you if you wait to gather everyone after he arrives. All of your guests should be together in one room for the entirety of his visit. Wandering guests, multiple conversation groups in different areas tend to dilute the Santa-experience for everyone. (Santa is the most important international celebrity they will ever meet, and little-ones are quick to notice if the adults don't think so, too!) Properly done, this will provide the entire group with a wonderful, bonding entertainment that frees you from playing host/ess (Santa becomes the temporary host) while making memories they'll be talking about for years to come.
6. PHOTOS
Santa will most often 1) pose for Photos, 2) hand-out FallOff's and 3) answer questions, magically (so suggest some ahead of time). There are many other wonderful things he can do, as well. Plan to discuss this with Santa well before the Big Day (or just tell Santa with a whisper). Keep in mind that 80% of all little-ones under 3 years old will be afraid of Santa. Have Mom or Dad hold them facing the camera and Santa can sneak-up behind to peek over the other shoulder for the Photo.
7. EXIT
Santa's exit is an important memory, too. When Santa leaves, be sure to keep everyone away from doors & windows, or they might spoil the memory.
8. PAYMENT
The fee for Santa's visit will be added to your room charge, $65 for the first 20 minutes and $55 for each 20 minutes thereafter (as you pre-arranged).
9. SURPRISES
Remember keep Santa's visit a secret! His surprise appearance at your cabin often makes memories that can last a lifetime! Also the visit is subject to weather, road conditions, health (his & yours) and at his discretion (he must be able to visit many others, too). So it's a good idea to have a backup plan.