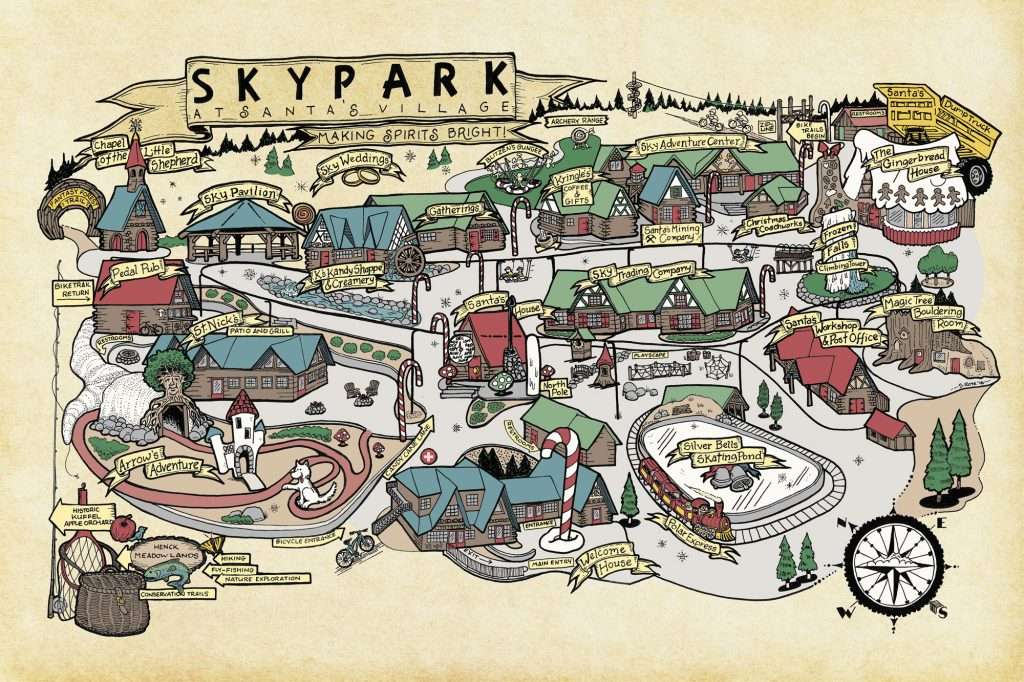 Skypark at Santa's Village
Here's what you'll experience: Zip-lining, Rock Climbing, Ice Skating, Archery, Mountain Biking, Discovery Playground, Train Ride, Hiking, Shopping and Dining, plus more!
Skypark is an outdoor, North Pole-themed adventure park! So what is an adventure park? An adventure park is where you are active in the experience!!!! Redesigning the park was very important to the new owners to keep it as eco-friendly as possible. You'll discover that most of the attractions are powered by you! Skypark is great fun and good exercise designed for kids of all ages. Note: closed-toe shoes are required for a lot of the rides.
Here are some suggestions; do to limited reservations make your zip-line reservation first. Dress warm!! Skypark is colder than the rest of the mountain (after all, it is the North Pole)! Try Billy's Barbecue has wonderful brisket and craft beer and is reasonably priced. Be sure to go to the Ginger-house Bakery and Sweet Shop and ask for their Ginger Doodle Cookies; it's a Skypark specialty.
Hours
**Skypark may close do to bad weather
Bike Park Hours
Thursday - Monday: 10 am - 6 pm